Brake Repairs
Brake pads and brake rotors are classified as wear items. As a result, brake fluids, pads, shoes and rotors should be assessed at regular intervals to ensure that your brake system is working effectively.
Balcatta Tyrepower is a great choice for all of your brake needs. Whenever you have an issue with your brakes, our dedicated staff are willing to work with you to determine what you need and the correct product/service to fix your brakes and help you keep your car safe.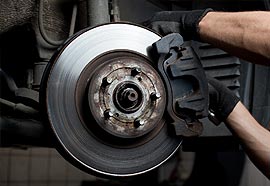 Brake issues can be highly dangerous.
Without brakes, your car won't be able to stop properly and you can end up in a serious situation. This can be bad for yourself and your passengers, as well as any other vehicles on the road. At Balcatta Tyrepower, we offer services to fix your brake issues quickly and efficiently, while keeping costs highly affordable and working professionally.
By being aligned with Australia's Biggest Independent Tyre Retailer in Perth, Balcatta Tyrepower provides top-notch service to all customers, with our dedicated and knowledgeable staff and updated equipment. Our quick and affordable brake services, along with a workforce that is willing to help you diagnose your vehicle's needs, make us a great choice for you when you need to have your brakes checked and repaired.
Great top-quality products make Balcatta Tyrepower a great choice for all of your tyre and tyre-related service needs. Along with name-brand tires, you will also find high-quality brakes, brake shoes and brake pads, with other tyre-related components. Our staff is highly trained to repair your vehicle quickly and efficiently, as well as provide the lowest prices possible.
All of our staff are trained and licensed to handle all of your tyre and tyre-related needs, including brakes. They will thoroughly and diligently check your brakes for any issues and discuss with you, in depth, what is wrong and give you options of what can be done to repair the problems with your brakes.
Founded in 1996, Balcatta Tyrepower is a highly-trusted provider of affordable tyre services, as well as cheap tyres in Perth, also providing services for Osborne Park, and Wangara. We can assure you that all of our products and services are top-notch, with a highly-trained staff that is always willing to work with customers and help make sure all services are provided in a fast and cost-efficient matter, keeping your services affordable. Along with tyre services, we also offer various brake, suspension, and other mechanical services to keep your vehicle in prime condition.
At Balcatta Tyrepower, we recommend the use of premium brake pads and components. We also offer disc and drum machining. If you're in Balcatta, or the surrounding areas, including Duncraig, Karrinyup. North beach, Marangaroo and Girrawheen, call us on (08) 9345 2977 to discuss your brake servicing and repairs today.
Warning Signs for Your Brakes
There is a seven-point list of things to look out for that let you know it may be time for brake repairs.
Loss of grip when braking

The feeling of your car pulling left or right when braking

A sloppy, soft or low brake pedal

Shuddering through your steering wheel when braking

Squeals, screeches and high-pitched noises when braking

Your brake warning light flashes

Your car takes longer to stop than normal
How Brakes Work
There's a lot you don't see when you step on the brakes. Pressing the brake pedal sends out fluid that activate your braking system. This forces the brake pad onto the disc rotor, causing friction and bringing your car to a stop. The brake pads of your car are fitted to the brake calliper. This is the part of the car that applies and releases the brake pads from the disc rotor.
Over time, friction wears down the brake pads, and they begin to lose their stopping power and cause damage to your brake pistons. This is why brake pads will need replacing pretty regularly.
Brake Callipers
Your brake callipers house one or more pistons depending on the model of your brakes. These pistons push or release when the brake pedal is operated. Specifically designed rubber components ensure that hydraulic brake fluid does not leak or allow dirt into the system. This is another element to keep an eye on when maintaining your brakes.