Suspension Repairs
Balcatta Tyrepower, cheap tyre dealer in Perth, is a great stop for all of your suspension needs. With a knowledgeable staff that is ready to help, we provide suspension services to you at a very affordable cost. Providing services since 1996, customers have trusted us with all of their tyre and tyre-related needs.
When you need help with your suspension, our crew is ready to work with you and help you determine the most affordable way to repair and test it. Using only the best tools and products, we can replace or upgrade your suspension at a low cost and have the knowledge to get the job done in a timely manner, as well as get the job done right the first time.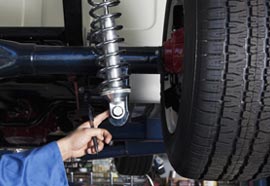 Your suspension is a very delicate and intricate part of your vehicle. For your safety and the safety of all passengers, you must not let it wear out. Let the experts at Balcatta Tyrepower check your suspension and help you fix what is needed in order to keep your vehicle safe.
As a credible member of Australia's biggest retail conglomerate in Perth, Balcatta Tyrepower is there for their customers with the proper knowledge to get the job done quickly on your suspension and provide you with high-quality brand names that you can trust.
The customers at Balcatta Tyrepower are offered competitive prices on their suspension services. Since 1996, we have been helping customers with their tyres and tyre services in a professional manner and have been providing cheap services.
Offering a wide variety of tyre services since 1996, Balcatta Tyrepower is trusted highly by customers in Perth. We provide services at an affordable cost that makes us a great choice when it comes to all of your tyre and tyre service needs. With a knowledgeable workforce that is ready to help customers and provide for your needs, we will work with you diligently and efficiently to fix your vehicle.
Balcatta Tyrepower, a credible member of Australia's biggest retail conglomerate, offers cheap tyres in the areas of Osborne Park, Malaga, and Wangara. Our services are performed in a timely manner by a dedicated staff, while remaining low-cost and professional. With high-quality products that are from recognized brands, we can assure you that all services will be performed correctly with products that will last.
Need help with your auto suspension work? Call Balcatta Tyrepower. You won't be disappointed!
Your vehicle's suspension is very complex with many components working hand in hand including, shock absorbers, springs, ball joints, tie rod ends and suspension bushes. These must be kept in good condition to ensure your safety. It only takes one part of the suspension system to become worn or damaged for suspension issues to occur, potentially putting your safety at risk.
SIX SUSPENSION WARNING SIGNS
These six warning signs may be telling you that something is wrong with your suspension. If you notice any or all of them, we recommend you get your vehicle to Balcatta Tyrepower as soon as possible.
Your car dips forward when braking
Your car doesn't handle properly around corners
Noises from the corners of your car
Having to drive around corners at slower speeds than normal
Unusual tread wear on your tyres
Moisture present on or around your shock absorbers
A professional suspension check-up by Balcatta Tyrepower will include listening to your query, taking the vehicle for a test drive and a full inspection of shock absorbers, springs, struts and all suspension system parts to check for faults or damage. We provide suspension servicing and repairs on most makes and models, servicing the Balcatta and surrounding suburbs, including Duncraig, Karrinyup. North beach, Marangaroo and Girrawheen. If your vehicle is due for a suspension service, or you have a concern about your suspension system, call us on (08) 9345 2977 to arrange a check-up.